Powerful stories connect us through shared experience. They remind us what it means to be human.
My work is to help leaders harness the power of strategic presentations and messaging, with powerful storytelling, to engage people with the heart-centered and life-changing impact of their mission. You and your organization have a wealth of compelling stories you need only uncover them.
I have always connected to the world through story. Over the past two decades, I have served as an executive leader and spokesperson for nonprofit organizations, an adjunct professor of English, and an award-winning author. My leadership journey taught me to listen to the stories at the heart of an organization, to lead by listening.
As an executive coach and consultant, I work collaboratively with each leader to uncover their stories, beneath the surface, then craft and deliver compelling, strategic messaging. In turn, this strengthens their organization's culture, building their unique voice as a leader, and the strategic messaging to propel their mission.
My work includes an award-winning collection of poetry and performing as storyteller for GBH's Stories from the Stage on World Channel. I have coached and trained on presentations, public speaking and storytelling to executives, entrepreneurs, and foundations, and coached leaders at companies including SUEZ, Fidelity, and Bristol-Meyers Squibb.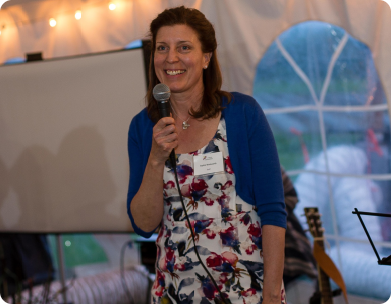 Sophie's
willingness to dig into my material yielded not only better delivery on my part, but a far better message for me to deliver. Sophie not only imparts her expertise and wisdom, she takes the time to understand my needs and vulnerabilities in a meaningful way to help me grow.