I help visionary leaders engage and inspire their stakeholders with storytelling.
You seek compelling stories about your mission that will change hearts and minds. Now you need only to discover and craft them. I help you strengthen how you engage your stakeholders to grow your mission– and change the world. I guide you in clarifying your stories and tapping your unique presence 'at the microphone', as leader and catalyst for change.
Through the power of storytelling, I help social sector leaders and entrepreneurs attract funding, inspire audiences, and expand their stakeholder community to create greater social impact.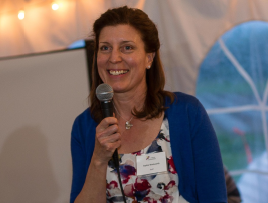 My own leadership journey taught me the power of stories at the heart of an organization. I learned to lead by listening and seeking out transformative stories. Over the past two decades, I have served as an executive leader and speaker for nonprofit organizations, an adjunct professor of English, and an award-winning author.
With each leader, I coach and collaborate. We uncover their best stories and weave them into compelling messaging. Then, through engaged, inspired speaking, leaders develop their voice. In turn, this builds their team culture and clarifies their messaging to advance their mission.
My story work includes an award-winning collection of poetry and performing as storyteller for GBH's Stories from the Stage on World Channel.
I've coached entrepreneurs, founders and leaders at social impact organizations including The Boys & Girls Club, The Greater Lowell Community Foundation, The Transition Institute, The University of Luxembourg Dept. of Physics and the Dana Farber Cancer Institute.

Sophie's
willingness to dig into my material yielded not only better delivery on my part, but a far better message for me to deliver. Sophie not only imparts her expertise and wisdom, she takes the time to understand my needs and vulnerabilities in a meaningful way to help me grow.